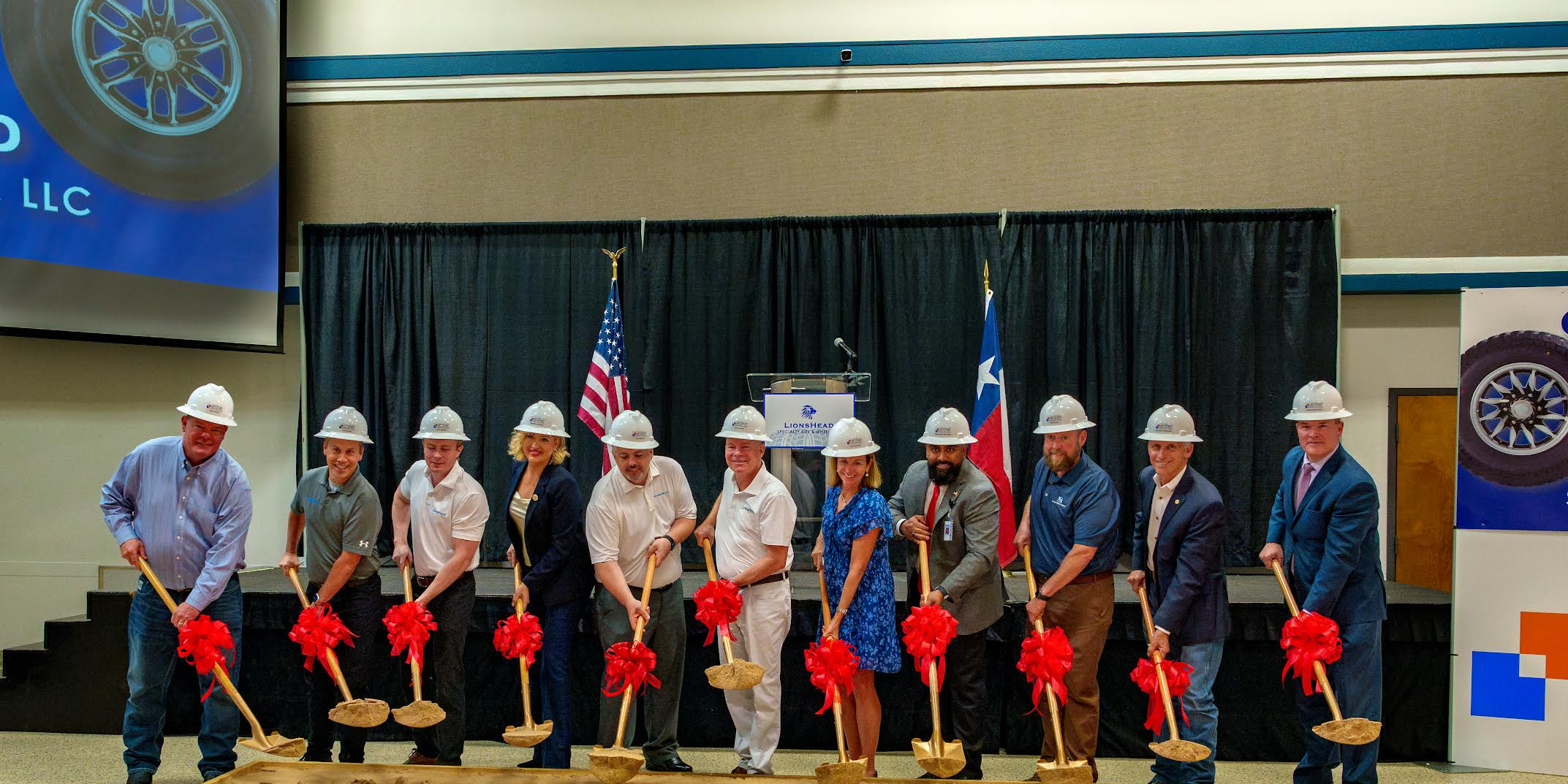 LionsHead Specialty Tire & Wheel LLC (LionsHead), a leading manufacturer and distributor of specialty wheels and tires held a ground-breaking ceremony for its highly anticipated state-of-the-art facility in Paris, Texas.
The ceremony took place Wednesday at the Love Civic Center, in partnership with the Paris Economic Development Corporation (PEDC) and construction firm, Acher Construction and Design.
The groundbreaking ceremony was attended by LionsHead executive team and staff, local business partners, guests and special guest, State Representative Gary Vandeaver.
Lionhead's new 120,000 square feet facility will be located at 34th Street NW and Loop 286 in the Northwest Industrial Park featuring more than $20,000,000 in investments to the property and equipment and will provide 40 new jobs to the area over a five-year period.
"Employee amenities is a real big concern for our company," stated LionsHead National Property Development Manager, Joe Tinervia. "This new modern two-story facility is packed with features that cultivate a positive work environment for the entire team at LionsHead. Today, marks an important milestone for our company and we look forward to joining the Paris community."
The PEDC supported the attraction of LionsHead with a land grant, cash for jobs and tax abatements via the City and County. The company expects the new project to take approximately 18 months to complete.
Maureen Hammond, Director of the Paris Economic Development Corporation, also expressed her excitement about the new facility stating, "We are proud to welcome LionsHead to Paris, Texas. Their decision to establish a state-of-the-art manufacturing and distribution center here is a testament to our skilled workforce, favorable business environment, and strategic location. We are not only gaining a new manufacturer that will serve the growing trailer industry in our region and produce a significant economic boost to our community, but we are also gaining a family-owned business that truly values its people."
"The people of Paris and EDC have just been so wonderful to work with," said Gary Graham, CEO and Owner of LionsHead. "We go back almost five years, and they have been completely understanding, patient, kind and professional. They have been everything we were looking for. We cannot express how excited we are to establish this location in Paris, Texas. There is no way we were going to build anywhere else but Lamar County."
This year, Texas was named the Best State for Business for the record-shattering 19th year in a row. Attracting and securing a company with strong values like LionsHead is evidence that Paris is harnessing all opportunities to reach higher and raise the bar.
"It's a cloudy and gray day outside, but for Paris and Lamar County, the future is bright. That's because of the hard work and collaboration from the people who made today possible," said State Representative Gary Vandeaver. "Texas truly is a business-friendly state and LionsHead represents what we want in Texas, and what we believe we are in Texas."
As the ceremony was concluded, LionsHead Specialty Tire & Wheel LLC expressed their gratitude to all attendees, partners, and stakeholders who have contributed to the milestone groundbreaking. The groundbreaking ceremony serves as a testament to LionsHead Specialty Tire & Wheel LLC's unwavering commitment to innovation, quality, and customer satisfaction.
For more information, please contact Lauren Trejo at the PEDC at (903) 784-6964 or ltrejo@selectparistexas.com.
About LionsHead Tire & Wheel LLC:
Lionshead Specialty Tire & Wheel, LLC. is a contract manufacturer and distributor of premium quality tires, wheels and related accessories for RV and trailer Original Equipment Manufacturers (OEM's), throughout North America. This includes recreational vehicles (RV), cargo, utility, marine, horse/livestock, and commercial equipment. Lionshead employs over 350 associates nationwide, and has seven plants strategically located in Indiana, Idaho, Texas, Georgia, North Carolina, and Minnesota. Lionshead's new investment in Paris adds over 120,000 square feet of industrial space that includes a two-story 9,400 square foot office and will bring over 40 new jobs to the Paris community in Texas.
In business since 1993, Lionshead is a family-owned company, focused on investing in American manufacturing. As a purposefully driven organization, Lionshead invites each associate to be part of building something special for our customers, our community and our team members. We engage with authenticity, think creatively, execute with precision and act with passion. Additional information about Lionshead and its products can be found at lionsheadtireandwheel.com