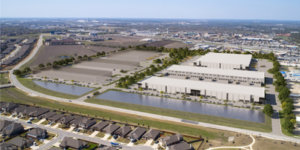 AUSTIN – United Properties announced today that it has begun construction of Phase I of its first Austin-based Buda Midway project, a 474,000 square foot Class A industrial facility on Fire Cracker Drive in Buda, Texas. The development will eventually be 800,000 sq. ft include.
"Buda Midway is exactly the kind of high-profile project we've been pursuing from the start," said Josh Delk, senior vice president, Austin Commercial Development, whose appointment was announced in April 2020 with the opening of the United Properties Austin office .
"Demand for industrial real estate in central Texas is extremely high and space is very limited as there aren't enough industrial products on-site or in the pipeline to meet short-term demand," said Delk. "Buda Midway, which will ultimately include over 800,000 square feet of Class A institutional storage and manufacturing facilities, will be well positioned to benefit from strong market conditions with an unrivaled location in Buda, close to Austin Ability to serve the thriving suburbs in Hays County south of Austin. "
He added that the project has great boarding and alighting options, access to major highways, high visibility from Interstate 35, and proximity to restaurants and retail outlets. "We are also very proud of the building design, with its clean aesthetics, which gives high quality tenants a good front door in the market," said Delk.
Phase I of the Buda Midway project will include three buildings spanning 35.88 acres for a total of just over 474,000 sq. ft include. Buildings 1 and 2 will have a rearload design of 115,090 sq. ft. Building 3 will feature a cross-dock design on 244,285 sq. ft. with an estimated completion date in the first half of 2022. Phase II, which will be completed at a later date, will add up to three additional buildings with an additional 326,000 sq. ft. on the premises.
Located at the intersection of IH-35 and SH-45, Buda Midway offers quick and easy access to Austin-Bergstrom International Airport, all major Texas highways and to cities like Austin, Round Rock and Temple to the north; and San Marcos, New Braunfels and San Antonio to the south. The location is in close proximity to a variety of amenities including restaurants, hotels, and shopping. Once completed, the buildings will have a clearance height of 30 to 36 feet and will have plenty of dock doors and trailer parking spaces, as well as over 200 parking spaces, including car charging stations.
"We are applying thoughtful design to Buda Midway to ensure it enhances the surrounding community, including an architectural plan that includes beautiful design and landscaping with lots of greenery and retention basins," said Delk. "We believe that Buda Midway complements the city itself. We are confident that it will become an integral part of the economic and social fabric of the community – a good neighbor who creates jobs and gives something back. "
"Buda has made an effort to provide more employment opportunities for our residents and those in the surrounding area," said Traci Anderson, executive director of Buda Economic Development Corporation (EDC). "United Properties is bringing high quality development to Buda that gives people the opportunity to work closer to home."
Buda Midway is part of a joint venture partnership between United Properties and PCCP, a Los Angeles-based real estate investment and management company, planning to develop an industrial portfolio of 11 buildings in Minneapolis, Denver and Austin.
Project partners include Aquila Commercial, Kimley-Horn Design and Engineering Consultants, Powers Brown Architecture, RC Page Construction and Hitchcock Design Group. More information is available at www.budamidway.com.
Since United Properties announced its entry into the market with Delk's appointment in April 2020, the Austin team has grown with Chris Mase, Vice President, Construction Management, and Brenda Studt, Development Manager. United Properties – Austin opened a new main office at 1617 West 6th Street, Austin in December 2020.
Delk said he and his team in the Austin area work on multiple fronts, from industrial development to mixed use and residential.
"We have only been here for a little over a year and despite the challenges we are facing with the pandemic, we are full speed ahead, starting with Buda Midway – and more to come," he said.